Monday is wash day. I sort, wash and then dry a week's worth of linens, clothes, dishtowels, rags. I love my front loading washer, and my dryer makes me feel zen – well, ok, not exactly zen. This is still laundry. Responsible is a much better word.
How can doing laundry make me feel responsible? I wash in cold water and rinse in cold water — no heating of the water saves enough electricity to offset the times I stand in front of the refrigerator with the door open wondering when my personal summer will abate so that I can get on with my day. Then I dry my clothes – for free.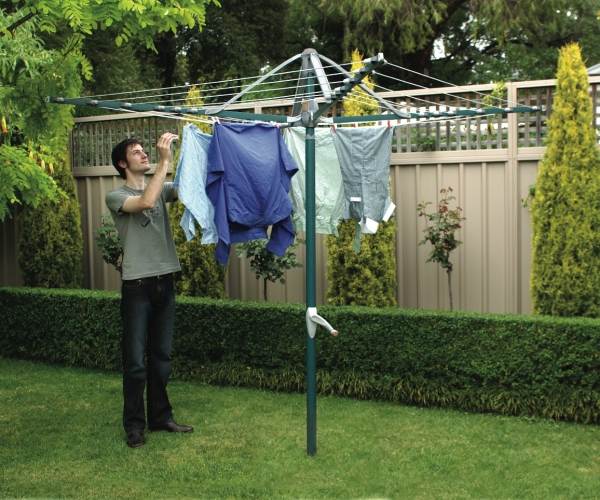 Yup folks. I have a clothesline on my back porch, out of the sun – but perhaps more importantly – out of the line of sight of my neighbor with the binoculars who lives to find out how we are breaking the deed restrictions. Screened from view with an inexpensive roller shade from the local hardware store, my clothes flutter dry in peace and quiet – without the use of fossil fuels.
I come from a long line of natural dryers. Our basement in Kentucky was end-to-end clotheslines. My mother swore that her knits would never see the inside of a tumble drier. She maintained that the heat shrank most clothes and sucked the fibers of their natural elasticity.
According to Mr. Electricity, electric washers use approximately $193 worth of fuel per year to operate. That's 50 cents a load. (Based on 7.5 loads, 15 cents per kWh) gas models use $120 per year, or 31 cents per load. (Based on 7.5 loads per week, $1.25/therm.) I do three to four loads of wash a week. According to Mr. Electricity's handy little calculator, I compared the cost of doing four loads a week for the two of us, simply leaving the dryer out of the calculations on one column and leaving it in for the other. Total savings per year: $110.
The reasons I line dry are more than the small financial savings each year. The clothes smell better. I feel better about doing it. It takes very little time to hang the clothes and the only thing I have to do is make sure my neighbors don't see the flutter of free drying. I use the same line clips my mother used – and some of those were her mother's. For five minutes at a time I can almost feel them standing there with me. Worth every penny I'm saving – and then some.
Two off topic posts in a row. I promise to get back out to the garden next time. Hopefully the 100 degree heat will abate soon.
Happy gardening!
Julie